Thimphu, the capital city of Bhutan, is the largest city and administrative head office of Bhutan and perhaps the smallest capital in the world. The city is a gallery of traditional Bhutanese art, architecture, culture, and tradition and above all still so ethnic and pure. Thimphu's landmark is Trashichho Dzong, the impressive fortress/monastery which houses the Secretariat building, the throne room of His Majesty and various government offices. The city is also renowned for its Handicrafts Emporium, Textile and Folk Heritage museum and the National Library displaying a wide range of beautifully hand-woven textiles, craft products, books on Bhutan, Buddhism and Himalayan culture and ancient Buddhist texts and manuscripts.

Tourist Attraction
Tashichho Dzong
The dzong was initially built in the 17th century and was rebuilt in early 1960s by the third King Jigme Dorji Wangchuk. Tashichho Dzong is the main secretariat building which houses the throne room of His Majesty and the summer residence of the central monk body. The dzong is open to visitors during Thimpu festival and when the monks move to their winter home in Punakha.

National Library
The National Library built in the style of a traditional temple contains a large collection of religious books and manuscripts in Dzongkha and Classical Tibetan and a collection of English-language books. It also contains a copy of the largest published book in the world.

National Textile Museum
The museum is dedicated to furthering the understanding of mankind's creative achievements in textile arts, displaying various Bhutanese textiles that are extensive and rich in traditional culture. It also exhibits colourful and rare kiras and ghos (traditional Bhutanese dress, kira for women and gho for men).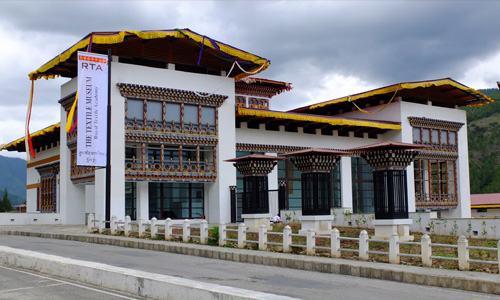 Folk Heritage
The National Folk Heritage Museum displays traditional Bhutanese ways of life in a traditional Bhutanese house. It gives an interesting perspective into Bhutanese culture and domestic lives of local people. The Museum Compound also holds Bhutanese dances and exhibitions.