The royal fortified city of Bikaner has timeless appeal. Lying in the north of the desert state of Rajasthan, the city is dotted with many sand dunes. Popularly called the 'Camel Country', Bikaner is renowned for the best riding camels in the world.

Tourist Attraction
Junagarh Fort
Built in 1593 A.D by Raja Rai Singh, a general in the army of Emperor Akbar, Junagarh fort is a formidable structure encircled by a moat and has some beautiful palaces within. These palaces, made in red sandstone and marble, make a picturesque ensemble of courtyards, balconies, kiosks and windows dotted all over fort.

Lalgarh Palace Museum
Located 3km north of the city centre, this red sandstone palace was built by Maharaja Ganga Singh (1881-1942) in memory of his father Maharaja Lal Singh. Apart from its architecture, sprawling lawns with blooming bougainvillea and dancing peacocks make this Palace a not-to-be missed visual treat.

Shri Lakshminath Temple
One of the oldest temples of Bikaner, this is the temple where the foundation of Bikaner was laid in the year 1488 A.D. by Rao Bikaji.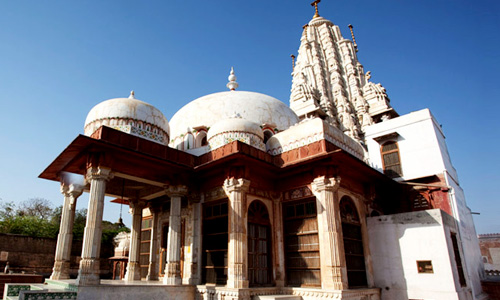 Unique Experience
Experience a camel safari and desert camp stay
Bikaner is a city of sand dunes, camels and desert camps. For a true cultural experience of Bikaner, get on board the ship of the desert and enjoy a camel safari leading you to your desert camp. Camp out in the sand dunes for a night, with Rajasthani artists keeping you entertained with local dances, music and puppet shows. Bon fire and star gazing followed by a traditional morning breakfast completes the experience.

Visit the Camel Breeding Farm
A unique camel farm and largest in Asia, Bikaner's camel breeding centre houses hundreds of camels. Here you get the opportunity to see what an interesting animal the camel is. Taste some thick camel milk while listening to a Raika or Rebari (a camel breeder's tribe) telling you stories about camels and how they are raised and bred.

Visit Karni Mata Temple
The 600 year old shrine of Karni Mata can be found in the town of Deshnoke, 30km south from Bikaner on the road to Jodhpur. Karni Mata is worshiped as an incarnation of Goddess Durga. The peculiarity of this temple is that thousands of rats are worshipped here. The rats are seen as holy, owing to the belief that the souls of the followers of Karni Mata are in these rats and thus they must be looked after. If you are not scared of rats and feel comfortable enough to see hundreds of them loitering around your feet then visit this temple for a truly unique experience.

Local Markets
Junagarh Fort : Inside Junagarh Fort is Bikaner's renowned crafts shop called the 'Abhivyakti', which sells handicrafts manufactured by skilled workers residing in villages around Bikaner.
Kote Gate (King Edward Memorial Road) : Here you will find Bikaner specialties made from camel hide such as belts, wallets, bags, jootis (footwear), and colourful carpets made of camel wool. Also at display is unique 'Kundan' jewellery; stoned jewels; 'Nokha Quilts', known for lightweight and good insulation; cotton fabrics with sanganeri prints, tie and dyes, and Bikaners famous intricate Usta art paintings - miniature paintings and gold embossing.
Eating Out
To treat guests with new and unusual dishes is considered a matter of prestige in Bikaner. Bikaner is famous for its namkeen (savoury snacks) and sweets – now popular all over India and around the world! When in Bikaner, buy a pack of Bikaneri bhujia and sample the authentic flavour!
The Harasar Haveli : This rooftop restaurant offers fascinating views of the surrounding area. The menu includes a variety of Indian delicacies from Mughlai and Tandoori dishes.
The Amber Restaurant : One of the most renowned restaurants at Bikaner, known for its wide spread vegetarian thalis and continental dishes.

Laxmi Hotel : This is a simple place, open to the street, with tasty, fresh vegetarian dishes - you can see the roti (unleavened bread) being flipped in front of you!

Chhot Motu Joshi Sweet House : This is Bikaner's most loved sweet shop, with an assortment of Indian treats. Try the milk sweet ras malai (cottage cheese dumplings) and saffron kesar cham cham (milk, sugar and saffron flavoured sweet).